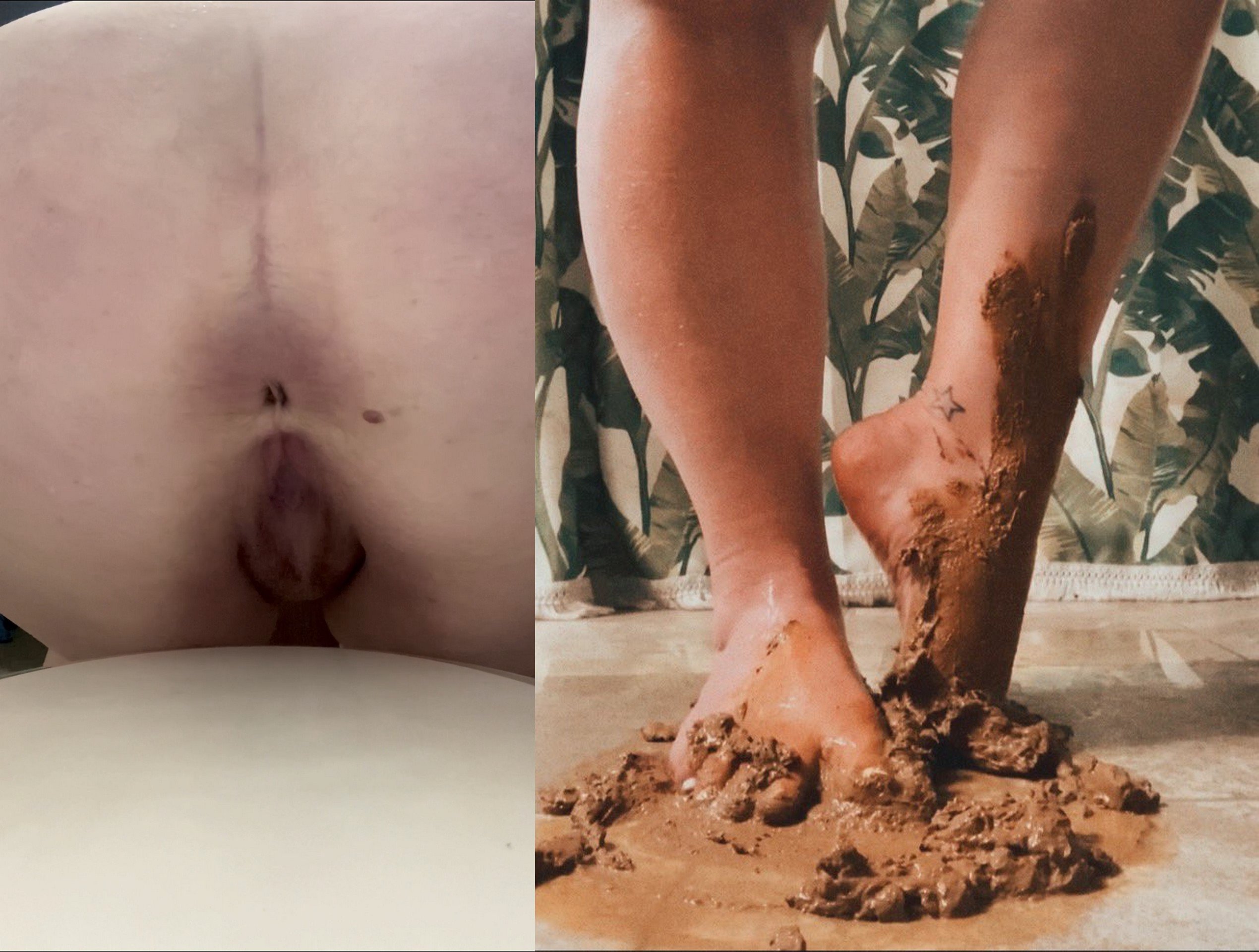 Anal Tease and Sharting
4 minutes long. She digs in her big ass with her anal beads, and sharts on them over and over. When she's done, she realizes she's hungry for the scat lolipop she's made.
Baking Scat Brownies
I had so much fun making my scat brownies. You get to see me unload my ass into the brownie batter and mix it all up. I baked the brownies and my whole house smelled like baked shit for an entire week. It made me so horny just to be in my aroma.
Butt Plug and Dildo
This is a little bit of an older clip that I never intended to be for sale, but it's a real good one! I push out my butt plug with a bunch of poop, then I throw it back on my dildo and mess all over the place.
Dumps Compilation
10 minutes of pooping and some pee. For those of you who appreciate a good toilet poo: here's several!
Feet Poo
I poop onto my feet, finger my dirty brown hole, then smoosh my feet around in the heavy load, smearing it up my legs.
Finger It out
I like how heavy and sticky this load was. I had to finger out the last bit of it, and it felt amazing.
Gravity Dumps
I wanted to see what it looked like when my ass drops it's load from a distance. It resulted in such a pretty big puddle of my crap.
Load on a Stool
I pooped this thick and heavy stool onto a stool and it felt SO good.
Morning Dookie
I just woke up with this log ready to go. Just blessing you with a thick hearty morning turd.
Mushy Smear on My Soles
4 minutes and 24 seconds of mushy poo that I plopped onto my feet, fingered out of my ass, and smeared my meaty soles with.
My Sweet Morning Shit
I hadn't gone in three whole days but as I was getting ready to head out the door for work, it hit me and I knew it was going to be a good one, and it sure was! Watch me drop this load just for you! Bon Appetit!
Nature Walk
I took a walk by the river the other day because it's warming up. The snow is melting. I took a poo right there by the trail. It was a beautiful day.
Poop and Smear
This desperate poop into the bathtub is super gassy and messy. I smear it all over my big round bum.
Poop at Work
Almost 9 minutes of 9 clips I shot at my workplace public bathroom. This one has variety to it. Diarrhea, solid logs, peeing, gassy poop.
Pretty Dirty Hole
Watch me unload another turd before I start my day. I love recording these.
Stinky Breakfast
I cooked up some steamy breakfast for you and took a big whiff of it, just to get the day started just right.
Tasting Compilation
Follow me on my journey from just a baby scat monster into the scat goddess I am today. I have recorded every lick, taste, or nibble I've ever taken of my poo and compiled it into this video.
The Best One
It's called The Best One for a reason. I let out a mountain of poo.
2022 | MP4 | Full HD | 1920×1080 | 6,99 GB
The post EFRO and Toilet Fetish Megapack starring in video LucyPuddles (22 videos) ($769.78 ScatShop) first appeared on Copro Porn Site #1.